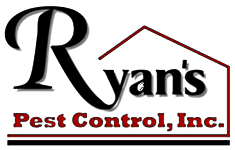 Committed to Quality
Dedicated to Excellence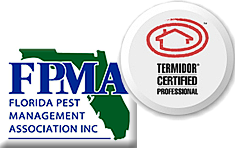 We will solve your pest problems
· Highly Trained and Skilled technicians · Minimal pesticide exposure · Great Prices!
· Customized programs meet every need · Unmatched Service · Licensed and Insured · Convenient
· Trustworthy · Timely · Reliable · Locally owned and operated · Termidor© Certified Professional
What is a WDO Report and why do I need one?
Collectively, Ryan's Pest Control employees have performed over 60,000 WDO inspections!
Experience means everything when choosing a WDO inspector.
Home buyers, realtors, mortgage companies, title companies and home inspection companies trust Ryan's Pest Control's trained and certified employees to perform this valuable service.
A Wood Destroying Organism (WDO) Inspection Report is a written report based on a visual inspection of a structure. The State of Florida mandates what is considered wood destroying and provides the form to report it on. This form is called a 13645 form.
A WDO inspection report is provided when a home or other structure is being sold and the mortgage lender and/or buyer requires the inspection as part of the transaction.
The WDO inspection can only be done by a wood-destroying organisms identification cardholder (or a certified operator with the wood-destroying organisms category) of a pest control company licensed by the state. These employees must receive special training to be qualified as WDO inspectors
THIS REPORT IS MADE ON THE BASIS OF WHAT WAS VISIBLE AND READILY ACCESSIBLE AT THE TIME OF THE INSPECTION AND DOES NOT CONSTITUTE A GUARANTEE OF THE ABSENCE OF WOOD-DESTROYING ORGANISMS (WDO'S) OR DAMAGE OR OTHER EVIDENCE UNLESS THIS REPORT SPECIFICALLY STATES HEREIN THE EXTENT OF SUCH GUARANTEE.
This report does not cover areas such as, but not limited to, those that are enclosed or inaccessible, areas concealed by wall-coverings, floor coverings, furniture equipment, stored articles, insulation, or any portion of the structure in which inspection would necessitate removing or defacing any part of the structure. This property was not inspected for any fungi other than wood- decaying fungi, and no opinion on health related effects or indoor air quality is provided or rendered buy this report. Individuals licensed to perform pest control are not required, authorized, or licensed to inspect or report for any fungi other than wood-destroying fungi, nor to report or comment on health or indoor air quality issues related to any fungi. Persons concerned about these issues should consult with a certified industrial hygienist or other person trained and qualified to render such opinions. A WOOD- DESTROYING ORGANISM (WDO) MEANS AN ARTHROPOD OR PLANT LIFE WHICH DAMAGES AND CAN REINFEST SEASONED WOOD IN A STRUCTURE ,NAMELY,TERMITES, POWDER POST BEETLES, OLD HOUSE BORERS, AND WOOD-DECAYING FUNGI.
NOTE: This is NOT a structural damage report. It should be understood that there may be damage, including possible hidden damage present. FURTHER INVESTIGATION BY QUALIFIED EXPERTS OF THE BUILDING TRADE SHOULD BE MADE TO DETERMINE THE STRUCTURAL SOUNDNESS OF THE PROPERTY.

Ryan's Pest Control, Inc.
is certified to handle your
WDO Inspection Report.
Call today!
"Wow, you're on time."
(We respect your time.)
Safety Comes First!
Our highly trained technicians will evaluate your problems and formulate a control program that best solves the problem in the safest, fastest, convenient and most cost effective way possible.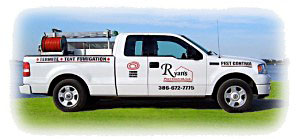 ---

751 S Yonge Street
Ormond Beach, FL 32174